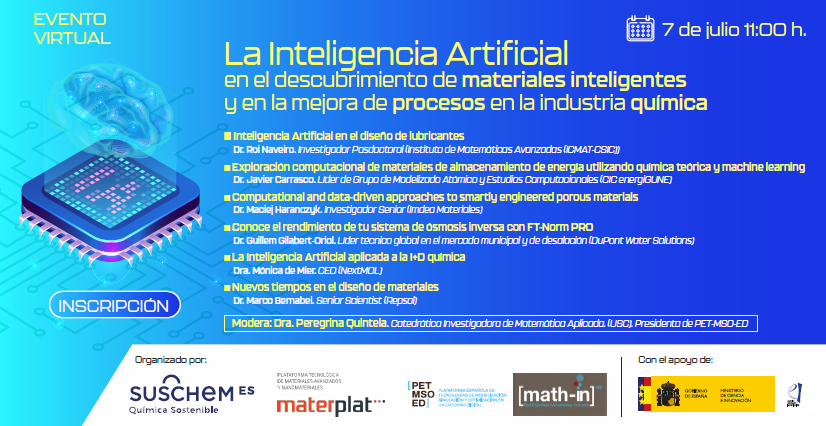 On July 7, the WEBINAR on "Artificial Intelligence Applications in the discovery of intelligent materials and in the improvement of processes in the chemical industry" will take place in virtual format.
The objective of this conference, co-organized by the Spanish Technological Platform for Advanced Materials and Nanomaterials (MATERPLAT), the Technological Platform for Sustainable Chemistry (SUSCHEM) and the Spanish Platform for Modeling, Simulation and Optimization Technologies in a Digital Environment (PET MSO- ED), is to deepen and publicize different lines of research that are being developed in Spain in this field.
The event will bring together both academic and industrial speakers to present and discuss these applications. It will be held as a round table and will be made up of 6 speakers and each one will present a project that falls within the scope of "AI Applications".
Program:
Artificial Intelligence in the design of lubricants
Dr. Roi Naveiro. Postdoctoral Researcher (Advanced Mathematics Institute (ICMAT-CSIC))
Computational exploration of energy storage materials using theoretical chemistry and machine learning
Dr. Javier Carrasco. Leader of the Atomic Modeling and Computational Studies Group (CIC energiGUNE)
Computational and data-driven approaches to smartly engineered porous materials
Dr. Maciej Haranczyk. Senior Researcher (Imdea Materials)
Know the performance of your reverse osmosis system with FT-Norm PRO
Dr. Guillem Gilabert-Oriol. Global technical leader in the municipal and desalination market (DuPont Water Solutions)
Artificial intelligence applied to chemical R&D
Dra.Mónica de Mier. CEO (NextMOL)
New times in material design
​Dr.Marco Bernabei. Senior Scientist (Repsol)
Moderator: Dr. Peregrina Quintela. Research Professor of Applied Mathematics (USC). President of PET MSO-ED
Inscription: https://www.suschem-es.org/registro/IArtificial.as